About Epic River
Founded in 2005, Epic River is a high-growth software company headquartered in Northern Colorado that provides solutions for the financial services, patient lending and healthcare industries. Our financial optimization services and medical billing solutions streamline payment processes for lenders, healthcare providers, and patients alike.
We infuse innovation, alternative approaches, and highly efficient software to help banks and credit unions create a user experience superior to that of marketplace and peer-to-peer lenders. Our commitment to utilize the lowest cost of capital and remove all unnecessary overhead from the loan process enables us to help everyone make the best possible financial decision when borrowing money.
Our methodology promotes innovation while keeping a firm grasp on the business case behind the application.
---

Integrity
In all that we do, we believe it is only worth doing provided the highest standards in ethical and honest behavior are maintained.
These high standards are required from all of our teammates, as well as our business partners.

Excellence
We take tremendous pride in the work we do. We are never satisfied with simply meeting the status quo or relying on past successes.
We are constantly improving our processes so that each product is better than the one before it.

Creativity
We cultivate our work environment in such a manner that encourages our teammates to innovate and think "way outside the box."
Great products come from innovative and creative thinking.

Compassion
We are committed to making a positive impact in our community and with the individuals who we encounter each and every day.
We realize that there are far more important things in life than work.

Teamwork
We are at our best when we leverage our talents by working together collaboratively on projects and through our internal processes.
Each individual within our organization brings unique talents to bear.

Service
We value the interactions we have with every customer, partner, and teammate, and we strive to provide top-level service at every opportunity.
We approach our work carefully and with great respect for our products and those who benefit from them.
---
Meet The Partners
Jeff Grobaski
Chief Executive Officer
As the CEO for Epic River, Jeff Grobaski draws on more than 20 years of experience in software development and product management. Before becoming a founding member of Epic River, Jeff began his career at EDS where he worked as a systems engineer on several medical logistics and accounting applications for the Department of Defense. After leaving EDS, Jeff put his top-secret clearance and financial software knowledge to work in the private sector as a product manager for banking software provider TREEV.
After the sale of TREEV to Metavante, Jeff co-founded Epic River to accelerate the design, development, and delivery of financial services software beginning with ProSign®, the first electronic signing solution for financial institutions. For the last 12 years at Epic River, Jeff has overseen or participated in each of Epic River's 11 product launches and hundreds of service projects.
When he's not working, Jeff enjoys golf, fly fishing, snowboarding, and volunteering his technical ability to friends, family, and the church he attends.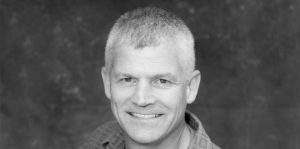 Scott Mead
Chief Financial Officer

Since joining Epic River in 2006, Scott he focused his efforts primarily on technology strategy and implementation to position the company as an industry-leading software innovator. In 2013, Scott was named Chief Financial Officer. In this role, he oversees the company's business strategy and provides leadership to executive management and other critical teams.
Prior to joining Epic River, Scott founded Cheetah Advanced Technologies in 1990, a highly successful enterprise solution provider for the heavy/highway construction market. As CEO of Cheetah, Scott was responsible for strategic vision, executive leadership, and business development. Scott holds a bachelor's degree in Computer Engineering from the University of New Mexico and a master's degree in Executive Business Administration from the University of Denver.
Scott has four incredible children and resides in Colorado with his wife, Andrea. He is active in his local church and mentors several leaders of nonprofit organizations. Scott also spends time participating in multi-day adventure races. Occasionally he's able to convince his youngest son and wife to join him.
Andy Lordi
Chief Marketing Officer

Andy Lordi is the Chief Marketing Officer at Epic River, and his focus is on Patient Lending.  Prior to joining Epic River, Andy spent 17 years with Belimed, Inc., a leading global provider of capital medical equipment, operating in all facets of sales and marketing while serving as a member of the Global Management Team.
Under Andy's leadership, Belimed's U.S. sales grew by a factor of 10.  Andy continues to provide strategic direction to Belimed in their partnerships with the most progressive healthcare systems.
In 2015, Andy brought his healthcare sales and marketing expertise to Epic River.  Andy develops and executes the go-to-market strategy, including continual hiring, training, and development of a national sales force that is focused on establishing relationships between healthcare providers and bank partners.
Andy lives in Charleston, SC with his wife, Susan, their two children, and their two dogs.  When he's not working, Andy enjoys fishing, golf, and skiing.
At Epic River, we believe that a business must have a bigger purpose than just profitability.
A few organizations our team volunteers with